The Nobel Prize Winners
Video, 12 min., 2003.
The Nobel prize winners are warming up for the TV transmitted celebration of the yearly nomination of the Nobel prize, in the year two thousand and..?
The Camera is constantly circling around five women who are deeply engaged in a conversation around a table. One cannot here what they are saying, but through the continuously repeated music the spectator is brought up close to the moods of the different persons and the exchange, taking place among them. The lack of sound from the conversation itself highlights the general nature of the situation, prompting us to focus on dialogue in itself, to enter into the spirit of it, rather than a particular topic. The video is visualization of fiture female authorities and of one year seeing the Nobel Prize awarded only to women.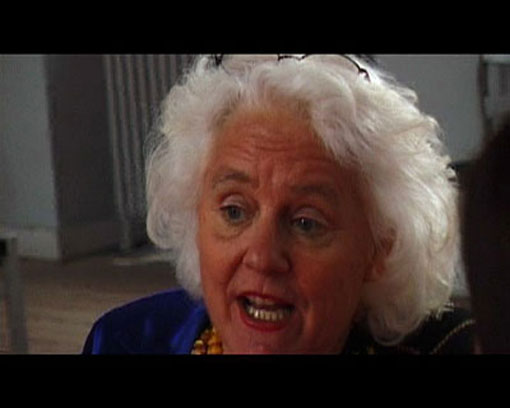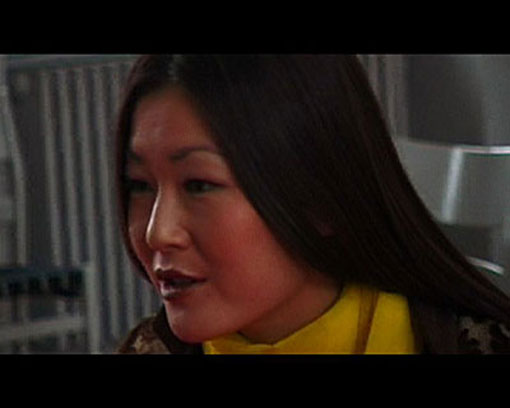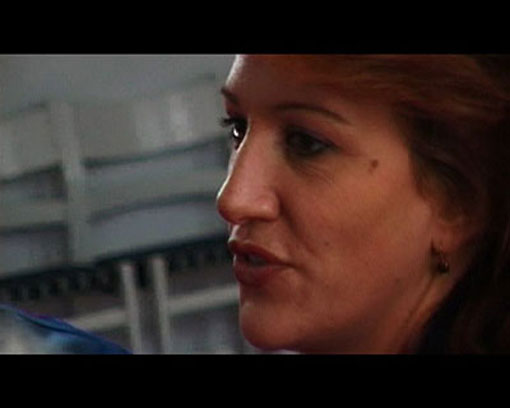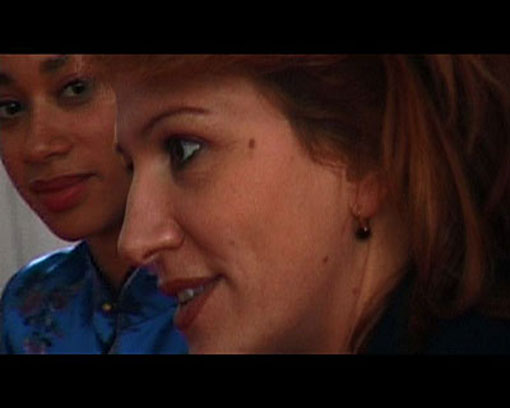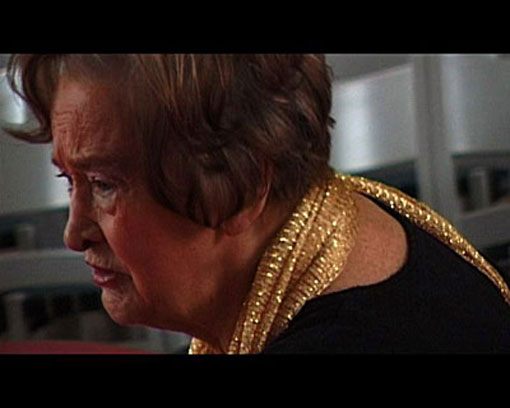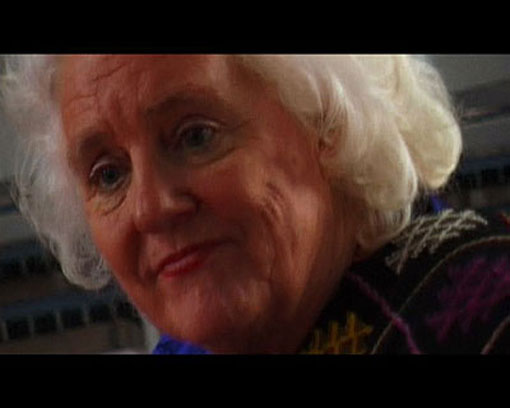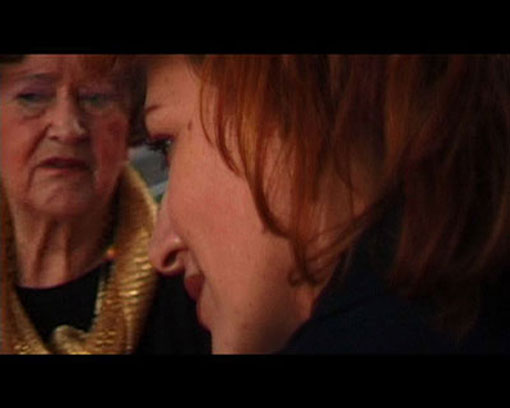 Video og billboard
Nobelprisvinderne totusind og… ?
Værket er en billedliggørelse af tanken om en fremtidig årgang af lutter kvindelige nobelpristagere. Det er en æstetisk og politisk kommentar til den træghed der fortsat hersker i den vestlige, demokratiske og liberale kultur, hvor der stadivæk er uvilje mod at opfatte kvinder som kompetente autoriteter på lige fod med mænd. Det er ligeledes en kommentar til den vestlige kulturs uniformering af den videnskabelige verden på tværs af kulturelle skel og til konventionerne for akademisk korrekt bevisførelse. Kvinderne på billedet er klædt i farverigt tøj og referere på kryds og tværs til forskellige kulture. Konferencebordet er et rødmalet, organisk formet bord. Billedets subjektive og ekspressive æstetik, hvor kvinderne både er autoriteter og subjekter er en vigtig modsætning til det gængse mediebillede af kvinder som begærsobjekter og af autoriteter som uniformerede bærere af en objektiv sandhed. Der er ikke bare tale om farver og former som dekoration, men som et redskab til at insisterer på et personligt engagement og en klar holdning. Bordet er en gennemgående platform i flere af mine værker. Det er en metafor for det at mødes om noget og for samtale i bred forstand. Det fungerer til stadighed som samlingspunkt for forskellige udsagn, interesser og kunstværker.
Medvirkende:
Fra venstre: Siham Hussein Alwan, Jeanette Ehlers, Nastja Marie Arcel, Lise Loft, Louise Dahl og Lis Allentoft.
Fotograf: Erik Molberg Hansen.
Scan og repro: Werkstette
Grafik: e-types
Styling, hår og make up: Trine Kjær Christensen og Benny Drøscher
Tak til: Mette Kobow, Ellen Nyman, Birgitte Kirkhoff Olsen, Hans Kristian Rømer Westh, Julie Rømer Westh, Troels Ågaard mf.